Community Involvement Strategy Discussions
---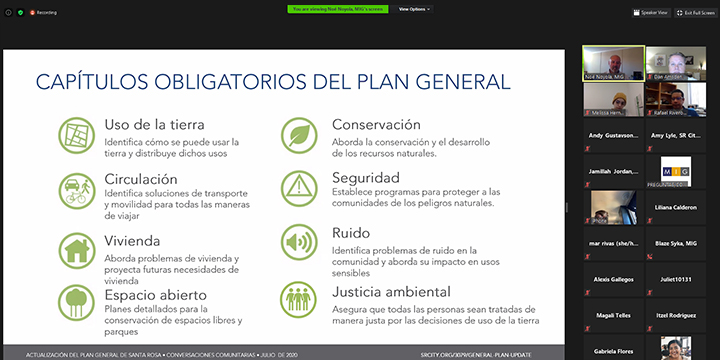 In Summer 2020, the Project Team prepared a draft Community Involvement Strategy (CIS) document that identified key outreach strategies and methods to be used during the General Plan Update process. The draft document included information on target audiences, communication tools, and the proposed timeline for implementation. The Draft CIS was posted on the General Plan Update website for public review on June 24, 2020.
Over the next 30 days the Project Team reached out the community through a series of social media announcements and targeted emails to community organizations and interested parties. The purpose of this engagement was to help refine the CIS document to ensure that the City was reaching out to the community in a thoughtful and impactful way during the project. As part of this outreach, the Project Team held four virtual meetings:
CIS Community Conversation #1, July 18, 2020
CIS Community Conversation #2 (in Spanish), July 25, 2020
Community Advisory Board Presentation, July 22, 2020
Santa Rosa Together Presentation, July 29, 2020
Approximately 60 people participated in the four online meetings and the Project Team received over 70 individual comments or questions. Major comments included:
Focus the GPU at a neighborhood level to ensure neighborhood assets, challenges, and opportunities are fully addressed in new or updated policy.
Form the CAC so that it includes topical and neighborhood experts who can cover the range of areas, issues, and perspectives present in Santa Rosa.
Include a range of opportunities for digital engagement during the current pandemic and coming years, including video submissions, Facebook Live meetings, texting, social media, etc.
Ensure the Latinx community is fully engaged and involved throughout the project.
Ensure the engagement process also responds to the digital divide (e.g., include in-person meetings and events), and supports people of all ages, abilities, races, and sexual orientations.
The Project Team then refined the CIS document based on the comments and feedback received during these meetings. The Santa Rosa City Council reviewed and accepted the updated Community Involvement Strategy on August 18, 2020.
Please click here to download and review the final Community Involvement Strategy (CIS).