Community Advisory Committee
---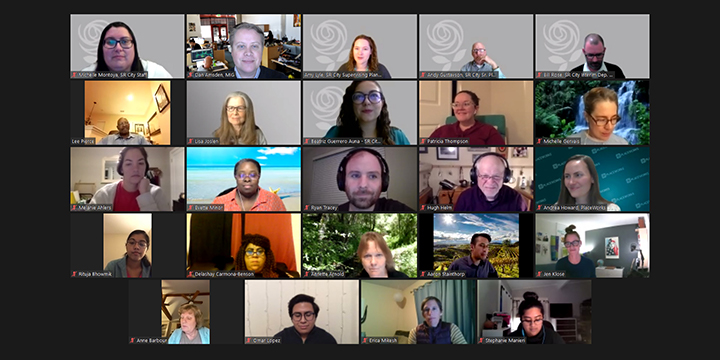 About the Committee
The Community Advisory Committee (CAC) is made up of a range of community interests to advise the project team during the development of the General Plan Update. Members represent a variety of organizations and perspectives including neighborhood groups, business groups, transportation and housing advocacy groups, and environmental organizations, as well as residents representing diverse perspectives, including youth and seniors.
CAC members are active participants in the planning process at each stage, from visioning through adoption. The primary role of the CAC is to act as project liaisons and to encourage the wide range of Santa Rosa's community members to participate in virtual and in-person project activities (e.g., community workshops, online surveys, virtual events). The CAC is not a decision-making body and will not have access to information or take action that differs from the opportunities made available to all outreach participants. However, CAC members will provide feedback on GPU products and help refine materials before they are presented to the greater community.
Each CAC member is expected to attend and be an active participant at all 10 meetings from Summer 2020 to Fall 2022. CAC members will serve as liaisons to their constituent groups, inviting input into the process and encouraging community participation throughout the planning process.
---
Meeting Information
The CAC will meet up to 10 times during this 30-month process to review and discuss emerging concepts and strategies, review work products, and refine community input opportunities. Each meeting will last between 90 minutes and two hours and will be held on weeknight evenings via online meetings (during COVID-19) or at a community center. All CAC meetings will be open to the public and will include public comment periods.
CAC Meeting #2: Vision
March 31, 2021
6:00 PM to 8:00 PM
Virtual Meeting
The Community Advisory Committee (CAC) will hold their second meeting on March 31, 2021. This meeting will provide an opportunity for the CAC to review the key learnings of the Existing Conditions Report and discuss what lies ahead for the city in the next 20-30 years. It will include an interactive discussion on framing a vision for the future of Santa Rosa.
CAC Meeting #1: Introduction
February 3, 2021
6:00 PM to 8:00 PM
Virtual Meeting
The Community Advisory Committee (CAC) held their first meeting on February 3, 2021. This meeting provided an opportunity for each individual CAC member to introduce themselves, review the purpose and role of the committee, receive a project overview presentation, and discuss some initial key themes for the project. Members of the public were welcome to attend.
---
CAC Roster
CAC Member
Email

Erica Mikesh

emikesh@srcity.org

Evette Minor

eminor@srcity.org

Jen Klose

jklose@srcity.org

Lee Pierce

lpierce@srcity.org

Lisa Joslen

ljoslen@srcity.org

Melanie Ahlers

mahlers@srcity.org

Michael Cook

mcook@srcity.org

Omar Lopez

olopez@srcity.org
Patricia Thompson

pathompson@srcity.org
Rituja Bhowmik

rbhowmik@srcity.org
Ryan Tracey

rtracey@srcity.org
Stephanie Manieri

smanieri@srcity.org
Steven Spillman

sspillman@srcity.org
Vacant*

Michelle Sepulveda

, City Council

Appointee, District 1

ms

epulveda@srcity.org

Vacant, City Council Appointee, District 2*

-
Vacant, City Council Appointee, District 3*

-
Joel M. Batterman, City Council Appointee, District 4

jbatterman@srcity.org
Ana Stevens, City Council Appointee, District 5

astevens@srcity.org
Anne Barbour, City Council Appointee, District 6

abarbour@srcity.org

Vacant, City Council Appointee, District 7*

-
Updated August 2021
---
CAC Applications
The Community Advisory Committee (CAC) still has some spaces left for you to participate. If you represent an organization or a perspective including a neighborhood group, business groups, transportation and housing advocacy group, environmental organization, youth, seniors, people with diabilities, minority groups, LGBTQ+, please fill in an application and send it to agustavson@srcity.org