Youth Voice Contest
---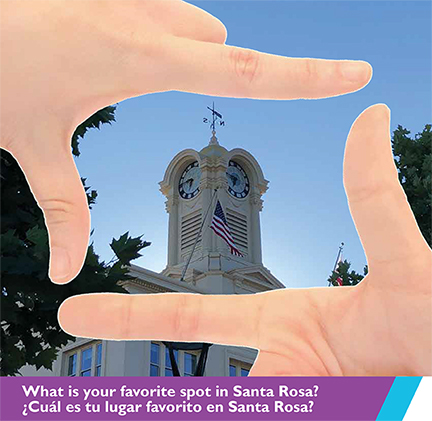 Do you have an eye for what makes Santa Rosa the special place it is today? Is it a landmark, a site, or a special place to simply hang out? Take and show us your best pic, reel, audio clip, or any media you think best encapsulates your favorite part of the City! The best submissions could receive gift cards to your favorite local hangouts and other prizes.
Click here to access the Youth Voice Contest website where you can review the contest rules, submission requirements, and submit your creative idea!
Additional Details
​Submissions must be made through the link above and received no later than November 30, 2021, in order to be eligible. Submissions allowed will be judged based on: (1) the age of the participate and if they fit into one of the three age groups (14 to 15, 16 to 18, and 19 to 24), and (2) if they live, work, or attend school within City of Santa Rosa city limits. By submitting your photo(s), video or other media, you are providing permission for it/them to be used in social media in connection with this contest and by the City of Santa Rosa for promotional purposes.
A panel made up of Community Advisory Committee members will be tasked with awarding 1st, 2nd and 3rd place awards in three different classifications: one for the 14-15 age group, one for 16-18 age group, and one for the 19-24 age group. Prizes for each age group will range from $10 to $100. Prizes are expected to be delivered no later than November 30, 2021.