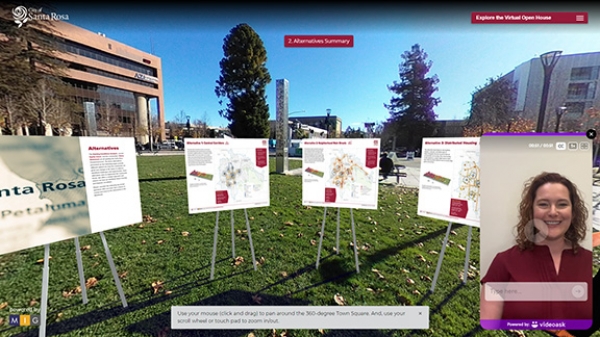 Alternatives Virtual Open House Launch
Mar 29, 2022 at 2:00pm
The City of Santa Rosa has launched a virtual open house to give community members the opportunity to review, provide feedback, and learn more about the alternatives workbook, as part of the city's general plan update, all from the comfort of their own homes.
This interactive, online, three-dimensional space provides people the chance to view the alternatives workbook in a completely new way, providing Santa Rosa residents with the opportunity to give feedback that can shape the development and growth of the city. The platform is available in both English and Spanish, with all the documents, surveys, and videos included.
The alternatives workbook presents three potential scenarios in how Santa Rosa could be developed. The workbook analyzes possible land-use and circulation scenarios that are guided by the existing conditions for development, current equity considerations, and the community's vision statement for
Santa Rosa Forward—the city's general plan update effort. At their core, each alternative represents one of three types of city planning paths taken to its logical end, with each falling into one of these descriptions:
Central Corridors concentrates housing near downtown and along central corridors.
Neighborhood Main Streets envisions a city of neighborhoods with new housing near small neighborhood centers.
Distributed Housing builds on what is already in Santa Rosa, with future growth occurring across the city in proportion to what is on the ground today.
Community members are being asked to attend the virtual studio, examine each of the three alternatives, and decide what elements from each they would like to see blended into one final, or preferred, alternative. Once approved, the final alternative will alter how the community will grow in the hopes of addressing challenges and opportunities in housing, equity, neighborhood connectivity, among countless other citywide impacts in the coming years.
Join the city and community partners by going to santarosaforward.com/townsquare to take part in the virtual studio and to move Santa Rosa Forward.
---
Como parte de la actualización del plan general de la ciudad, la Ciudad de Santa Rosa ha lanzado un estudio virtual para dar a los miembros de la comunidad la oportunidad de revisar las alternativas, proporcionar comentarios y aprender más sobre el cuaderno de alternativas desde la comodidad de sus propios hogares.
Este espacio tridimensional interactivo y virtual, ofrece ala comunidad la oportunidad de ver el Cuaderno de Alternativas de una manera completamente nueva. Los residentes de Santa Rosa pueden proporcionar commentarios para dar forma al desarrollo y crecimiento de la ciudad. La plataforma está disponible en inglés y español, con todos los documentos, encuestas y videos.
El cuaderno de alternativas presenta tres escenarios potenciales en cómo se podría desarrollar Santa Rosa. El cuaderno analiza posibles escenarios de uso de la tierra y circulación que se moldeado por las condiciones existentes para el desarrollo, las consideraciones actuales de equidad y la declaración de visión de la comunidad para Santa Rosa Forward-el actualización del plan general de la ciudad. Cada alternativa representa uno de los tres tipos de planes de ciudad con cada una de estas descripciones:
Corredores Centrales se concentra en el futuro crecimiento comercial y residencial cerca del centro de la ciudad y a lo largo de los calles centrales.
Calles Principales de los Vecindarios se concentra viviendas, empleos y destinos comunitarios a lo largo de corredores clave y en centros comunitarios.
Viviendas Distribuidas se distribuye nuevos dúplex, tríplex, patios y tipos similares de hogares por toda la ciudad en parcelas que pueden albergar nuevas viviendas.
Se pide a los miembros de la comunidad que visiten el estudio virtual, revisar cada una de las tres alternativas y decidan cuales elementos de cada uno de alternativa les gustaría ver mezclados en una alternativa preferida. Cuando esta aprobada, la alternativa final alterará cómo la comunidad crecerá para abordar los desafíos y oportunidades en vivienda, equidad, conectividad del vecindario, y otros impactos en toda la ciudad en los próximos años.
Únete a la ciudad y a los socios de la comunidad en santarosaforward.com/townsquare para participar en el estudio virtual y para mover a Santa Rosa hacia adelante.